About
Key Features
Corporate Clients

We provides a one-stop solution for all your share plan needs: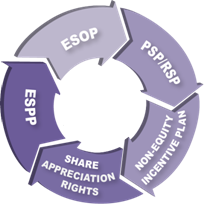 Share Appreciation Rights (SARs)
Employee Share Purchase Plan (ESPP)
Non-equity Incentive Plan and other Share Incentive Plans

We offer companies our Online Share Plan System, hosted securely in a tier-3 data centre in Singapore. The Software as a Service (SaaS) powered and proven capabilities of our web-based system automates the workflow of administering, exercising/ vesting and tracking of all types of share/ cash incentive plans, without the need to invest in expensive IT infrastructures and software licences.


It is a highly versatile system in which all modules can be integrated to form a complete share plan management system. Each module can also function independently as a standalone system or can be combined with another module depending on your requirements. We can customise the system according to your needs.
SERVICE MODEL
Full Outsourced Administrative Services
Subscription Services

Administer share plan(s) on your behalf
Provide help desk support
Hosting of System
License to use

Client's own in-house manpower
Hosting of System
License to use
Increases productivity, saves time and money
Automates tedious administrative work of share plan management
Highly reliable and secure system assures data integrity
Easy retrieval and tracking of information
Generates grant/ award letters via email to employees, minimising human error
Automatic trigger of email notifications or reminders to the respective roles, according to the workflow
Generates comprehensive, accurate and timely reports (more than 10 reports available) and forms
Enables faster listing/ crediting of shares by generating SGX letter, ALA form/ Form 4.2, CDP form/ text and Allotment form
Relieves HR and Company Secretary to focus on core issues
Interface with the Share Registrar to issue share certificates to SGX/ CDP
Allows 24 hours of self-service access by employees and HR anytime and anywhere via Internet
Caters for different user roles and access control; access to the system is restricted based on the roles assigned
Employee can view up-to-date balance and historical transaction records in his personal ledger
Compliance with your company's share plan rules and policies, i.e. policies to implement blackout period and restriction
Generates comprehensive and detailed Expensing/ Amortisation Report for your Finance Department
Our corporate clients include: