About
Key Features
ESOP Expensing
Online Share Plan System for ESOP (Employee Share Option Plan) is a proven web-based system which simplifies the granting of share options for companies, and allows employees to accept grants, exercise and track their share options.
The scalable, versatile and highly reliable system automates the tedious administrative work involved in managing Share Option Plans, saving time and money in a user-friendly environment.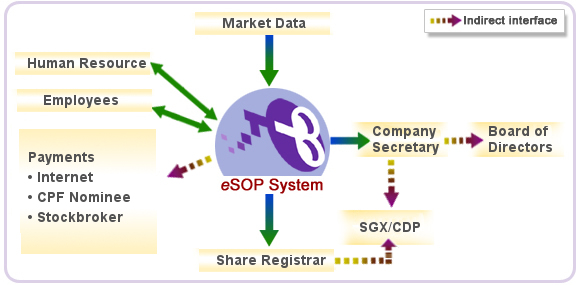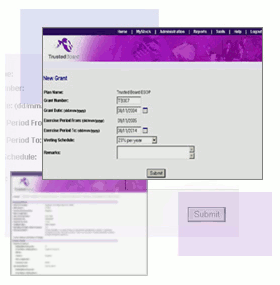 Your Human Resource Department can:

manage employees' information
create multiple share option grants
manage grants with flexible vesting schedules
generate grant letters and send via email to employees
login to the system anytime to see who has accepted or declined or not responded to the selected grant
generate acceptance report and upload it to the payroll system for deduction of $1 from employee's payroll
process exercise application once payment is cleared
generate lapse report; list of employees whose options have lapsed due to resignation, expiry and adjustment, and their corresponding options details
enter listing/ crediting date into the system and the system will retrieve the listing price from SGX (for listed companies)
generate gains report of share options exercised,required for employees' income tax reporting
generate detailed report on the movement of the options granted, exercised, lapsed and opening/closing balance of the grant for a selected period, to meet the company's monthly, quarterly and annually reporting needs
Your Employees can:
accept their share options grant via the Internet
exercise their vested share options via the Internet anytime whether they are based locally or overseas
choose their preferred share options payment mode such as cheque/ TT/ cashier's order, Internet banking, CPF and SRS funds, cashless with share financing or SBL (Share Borrowing & Lending) facilities offered by stockbroking firms, prior to company's arrangement
view up-to-date balance and historical transaction records in their personal share options ledgers
Your Company Secretary can:
generate auto-populated forms and CDP files for timely lodgment with the Share Registrar and SGX/ CDP
Your Finance Department can:
generate comprehensive and detailed Valuation Report, Amortisation Schedule Report and Cost Centre Report, to meet the requirements outlined in FRS102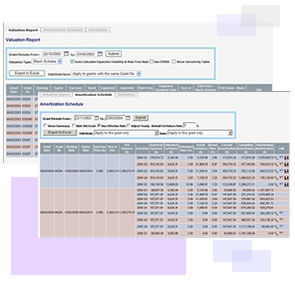 The ESOP Expensing module is a web-based system which automates the computation of the fair value of your company's employee share options for reporting in compliance with Financial Reporting Standards FRS 102. It is developed in consultation with Professor Low Buen Sin who is a Director of the Master of Science (Financial Engineering) program at Nanyang Technological University.
This module is designed to relieve the tedious tasks involved in collection of data for computing the options' expense. It allows your company to value the options based on acceptance date. This module supports both the Black-Scholes and Binomial methodologies and can be enhanced to support other methodologies.

Your Finance Department can:

input parameters to calculate expenses pertaining to employees' share options
perform sensitivity analysis to analyse the bottom line impact of different expectations embedded in determining a share option's fair value
calculate quarterly amortisation schedule for options expense with an expected forfeiture rate
adjust the amortisation schedule based on the actual forfeiture rate captured by the system.
allocate the expenses across the different business units within your organisation