About
Key Features
Share Expensing
Online Share Plan System for PSP/ RSP (Performance Share Plan/ Restricted Share Plan) is a web-based system which simplifies the granting and tracking of performance-based employee share awards.
It generates award letters via email to the respective employees. Employees can also track details of their different awards and corresponding vesting dates in their personal ledgers.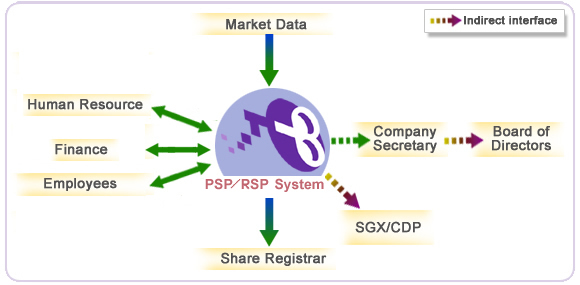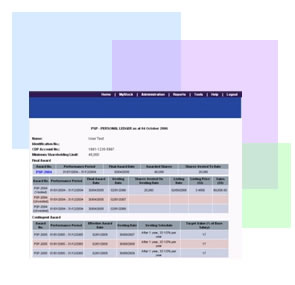 Your Human Resource Department can:

manage employees' information
create new share award and generate share award letter
manage multiple share awards with flexible vesting schedules
generate lapse report; list of employees whose share awards have lapsed due to resignation, expiry and adjustment, and their corresponding share awards details
compute the final awarded shares automatically based on the achievement factors entered
process share crediting upon vesting of share awards
enter listing/ crediting date into the system and the system will automatically update the relevant listing price from SGX
generate gains report of share awards,required for employees' income tax reporting
generate detailed reports on the movement of the shares awarded, vested, lapsed, and opening/ closing balance of the share award for a selected period, to meet the company's monthly, quarterly, and annual reporting needs

Your Employees can:

view their share awards and performance conditions via Internet
accept their share awards via Internet, if required
view up-to-date balance and vested share awards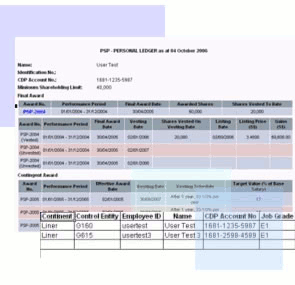 Your Company Secretary can:

upon vesting of awards, generate auto-populated forms for timely lodgment with the Share Registrar and SGX/ CDP


Your Finance Department can:

generate comprehensive and detailed Expensing/ Amortisation Report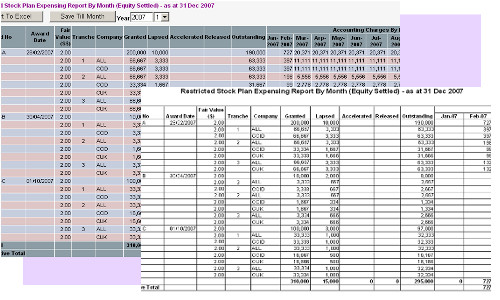 Our system can generate comprehensive and detailed Expensing/ Amortisation Report for your Finance Department.
Valuation Report shows the award summary after entering the fair value
Amortisation Schedule Report tracks the amortisation schedule of the share awards quarterly or monthly, and writes back the expenses adjusted for actual forfeitures over vesting period
Cost Centre Report tracks cost chargeable to each cost centre
All reports are easily exported to Excel and the module can be customised to your needs.